MBA and PGDM Differences
MBA and PGDM Differences
MBA and PGDM Differences – Erase the Confusion and Pick the Suitable Course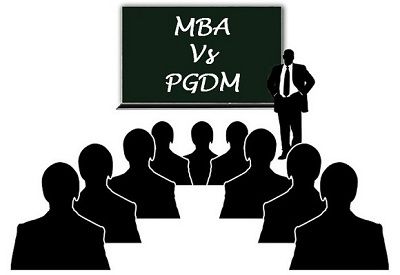 MBA and PGDM Differences | Image Resource : keydifferences.com
Graduates today are putting high focus on their career paths so as to make their living comfortable in this costly world. When it comes to the matter making career bright then, MBA and PGDM courses are of great choice. This is because in today's world management courses are having huge demand where students are getting the clear path to design their career.
Though MBA and PGDM are now reaching heights of demand but still many graduates not clear about MBA and PGDM differences. Yes, there are thousands of people who still have this question in mind. So, let us now have clear information about the difference between these two courses and make all the graduates clear about the course and make right decision when it comes to the matter of picking best course.
The Simple Difference Between MBA And PGDM Is:
MBA course is offered by colleges that are affiliated to a University.
PGDM course is offered by the institutes that are autonomous.
Autonomous is nothing but when any college is not affiliated to any university then it is known as Autonomous where an institute secure autonomy and design their own curriculum and have complete rights to update their curriculum whenever require. These autonomous institutes are approved by All India Council for Technical Education. Since MBA course is offered by colleges affiliated to university students need to follow university syllabus which does not change very often like PGDM course.
IIMs as we all know is one of the prestigious institute and this institute also offering PHDM course. Graduates choosing MBA need to strictly follow university guidelines and rules but PGDM students can utilize academic freedom. Though there is countless number of people today choosing MBA as their career path but now the count of graduates turning their heads towards PGDM course is also increased because of the convenience levels and ease of learning.
The best thing about PGDM is, here students get a chance to clearly understand real world of business with the help of internships, live projects, interactions with business professionals and many more. However, even MBA students are beneficial where they get a chance to focus on theoretical aspects of management and in fact this course is more affordable when compared to PGDM course.
So, now without any confusion in mind make your best decision of whether to pick PGDM or MBA course and give brighter look to your career.